"From the first time I walked into the 'spaceship' they call the recording studio I had to know how it all worked."...
Mark Lizotte aka Diesel started out his recording career working with such legendary producers as Terry Manning (Al Green, ZZ Top, Big Star), Don Gehman (Tracy Chapman, R.E.M., Jimmy Barnes) and Jerry Harrison (No Doubt, Crash Test Dummies, Violent Femmes), soaking up everything he could. He made his production debut in 1995 with his own album "Solid State Rhyme" producing and playing most of the instruments on tracks such as "15 Feet Of Snow" and "All Come Together", showing that not only could he be a full frontal guitar slinger but an artist with great sensitivity with a wide pallet of musical colours.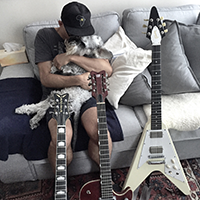 In the years following, producing and sharing his love for the studio with others became his focus as he continued to explore the alchemy and mystery that is recording music.  "I've had so many different recording experiences I don't believe any one to be the 'right way'.  My approach is finding the balance between comfort and discomfort with an artist – that's usually when the good stuff happens."
Making the decision early on to be a solo artist, Mark describes the journey. "Recording by default can be a lonely process but ultimately a rewarding one.  Working with other artists, writing and producing with them allows me to share the experience."
In 2012, Mark was asked to write the music for the 6-part Australian mini series – "Bikie Wars: Brothers in Arms".  Based on the Milperra massacre, the high rating series aired on Network Ten later that year.  Mark made his score debut contributing over 140 original score pieces plus the theme track 'Highway Mind'.  Shortly after he also wrote the original score for Big City Lights, a short film by Blake Fraser.
Mark recently put all his acquisitions under the one roof and has a fully functioning mixing suite and recording space.  Featuring a great listing of vintage esoteric & cutting edge gear, the studio (aka Tremland) has already recorded artists such as Karise Eden, Chance Carousel, Alys Ffion, Diesel & Lila Gold since its opening in 2014.
Recent recordings:
China Chalet – Lila Gold
(co-write / instrumentation / production / mixing)
We Got The Night – Karise Eden
(co-write / instrumentation / production / mixing)
Almost Love – Alys
(instrumentation / production / mixing)
I Move Slow – Chance Carousel
(instrumentation / production / mixing)
I Get Joy – Charlie A'Court
(write / instrumentation / production / mixing)
Please direct all enquiries to info@marklizotte.com.au